Where/When:
Smart City Expo World Congress (Barcelona)
November 15-18, 2021
Canadian Pavilion Booth (Gran Via, Hall 2, Level 0, Street C, Stand 124)
Who We Are:
Wedge Networks is a cyber security software vendor, specializing in Real-time Threat Prevention; securing millions of endpoints globally. With numerous patents and industry awards, Wedge is headquartered in Calgary, Canada with international teams in the North America, Asia Pacific, Europe, and the Middle East and North Africa regions.



Wedge is looking to meet with MSP, OEM, VAR and SI partners to provide Real-time Threat Prevention to end customers worldwide.
What Problems Do We Solve?
Real-time Threat Prevention is one of the most critical cyber defense requirements for the digital economy. With Smart Cities and Smart infrastructure powered by networks of billions of IoT, IIoT, ICS systems through mobile data (LTE, 5G), LoRa, satellite links, there are countless vulnerabilities for potential cyber-attacks. An overarching, effective security layer is very much needed.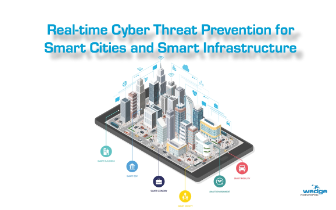 Wedge's core product, the Wedge Absolute Real-Time Protection™ (WedgeARP™) platform, is protecting millions of connected devices in many smart infrastructures around the globe. Wedge currently leads the cyber security practises of several important industrial/governmental RDI initiatives such as the 5G-Safe-Plus (Celtic-Next Project) for Connected Autonomous Vehicles /Intelligent Transportation Systems; and provides the architecture of the Absolute Real-time Threat Protection for Smart Infrastructures and Smart Buildings (Penta-Euripides Project).

We Look Forward to Meeting You!
Throughout the COVID-19 pandemic, Wedge and its partners have been working hard to secure the digital infrastructure. We look forward to talking with you about this very unique learning experience at SCEWC 21, one of the premier industry events:
• Live demonstrations of the latest WedgeARP™ software release – the Managed Service Provider Edition
• Progress update on behalf of Eureka/Celtic-Next 5G Safe Plus initiative
• Exchange of ideas on the shortlisted Penta-Euripides Project: Absolute Real-time Threat Protection™ for Smart Infrastructures and Smart Buildings (ARP-SIB)

¡Diviértete en SCEWC 21!